Dr El Premium Natural Toothpaste [expiry date: 2026]
Original price
$12.90
-
Original price
$12.90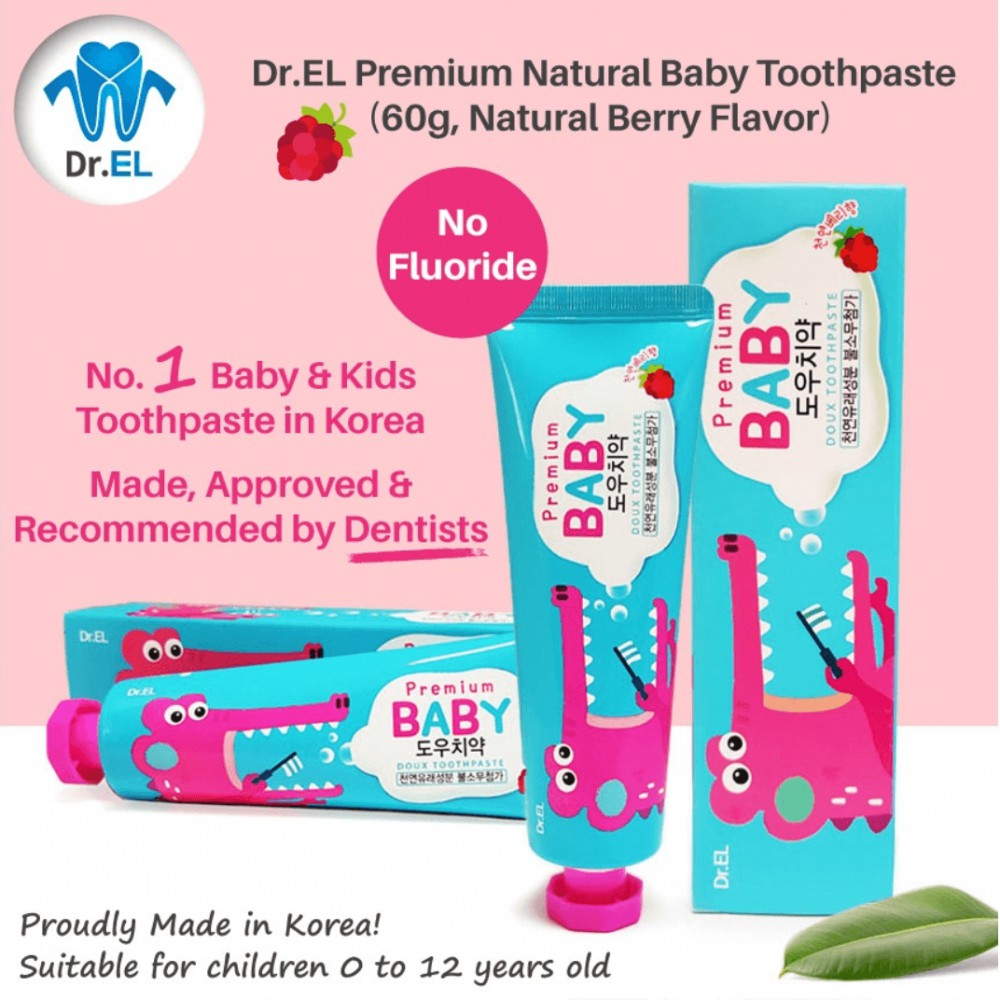 Made for babies and kids, this renowned toothpaste is recognised and approved by the top Korean hospitals and dentists. A natural toothpaste specially formulated by ELmeditec (the No. 1 dental specialist group in Korea), it includes a total of 6 organic components, the most in the industry. It is also widely used by many celebrities, paying testament to the quality of this product. In fact, it is the No. 1 Toothpaste for Baby and Kids in Korea in 2018!
What is Fluoride?
Fluoride has a significant effect on preventing tooth decay. However, if you use fluoride excessively, it may cause harmful effects on your teeth, such as spots on your teeth. Therefore, it is advisable to choose fluoride-free toothpaste for infants whose teeth are relatively weak. But for those who are 3 years and above, a low fluoride toothpaste is recommended to strengthen and protect teeth against decay.
Natural and effective 
Made with a total of 6 organic components, namely Rosemary, Chamomile, Aloe Vera, Eucalyptus, Green tea & Sage, Dr EL Premium Natural Baby Toothpaste makes use of the natural elements and benefits of these components to promote healthy tooth enamel, keeps teeth strong, and even prevents cavities.Not only does using the toothpaste regularly reduce bad breath and plaque formation, it also strengthens the gum and prevents gum bleeding!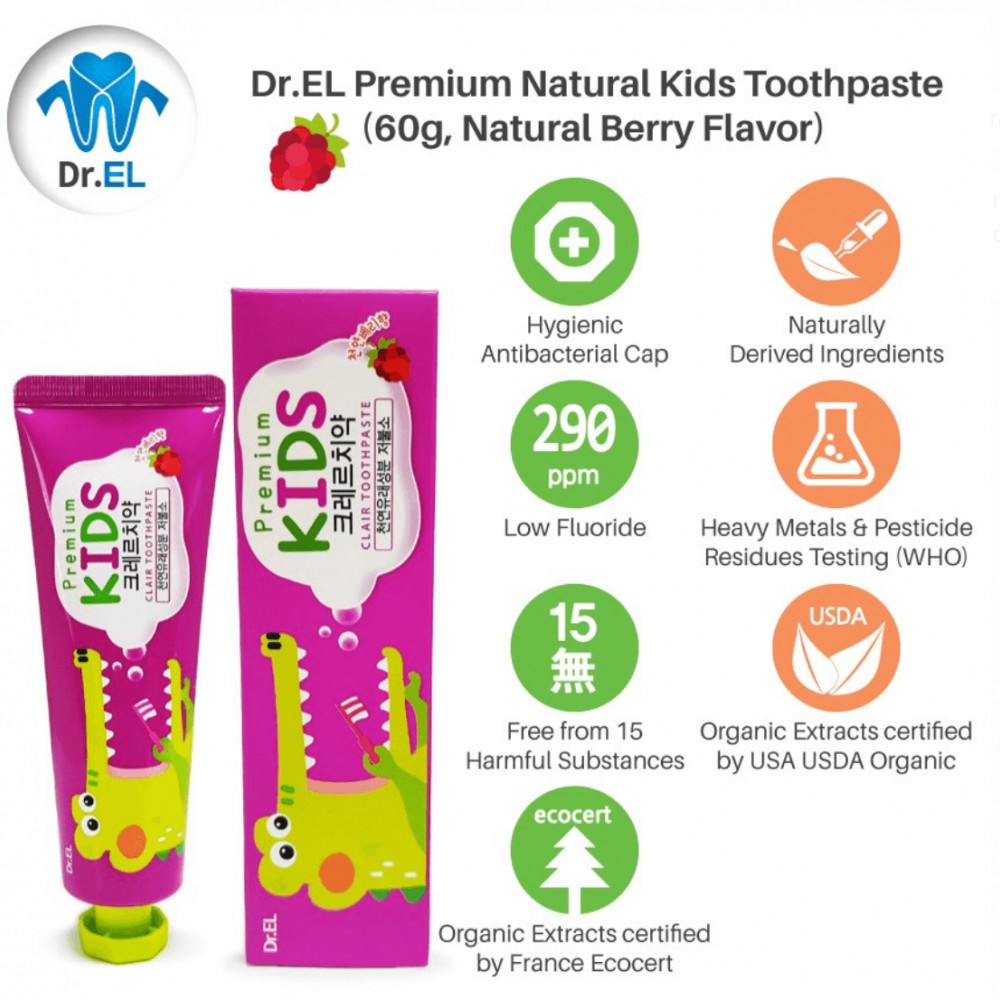 Benefits
⭕Promote healthy tooth enamel
⭕Strengthens teeth and gums
⭕Prevents cavities and toothache
⭕Reduces bad breath
⭕Reduces plaque formation
⭕Prevents gum bleeding
⭕Safe for consumption for infants and kids 
⭕Natural taste and flavour
⭕Hypoallergenic ingredients to reduce resistance to brushing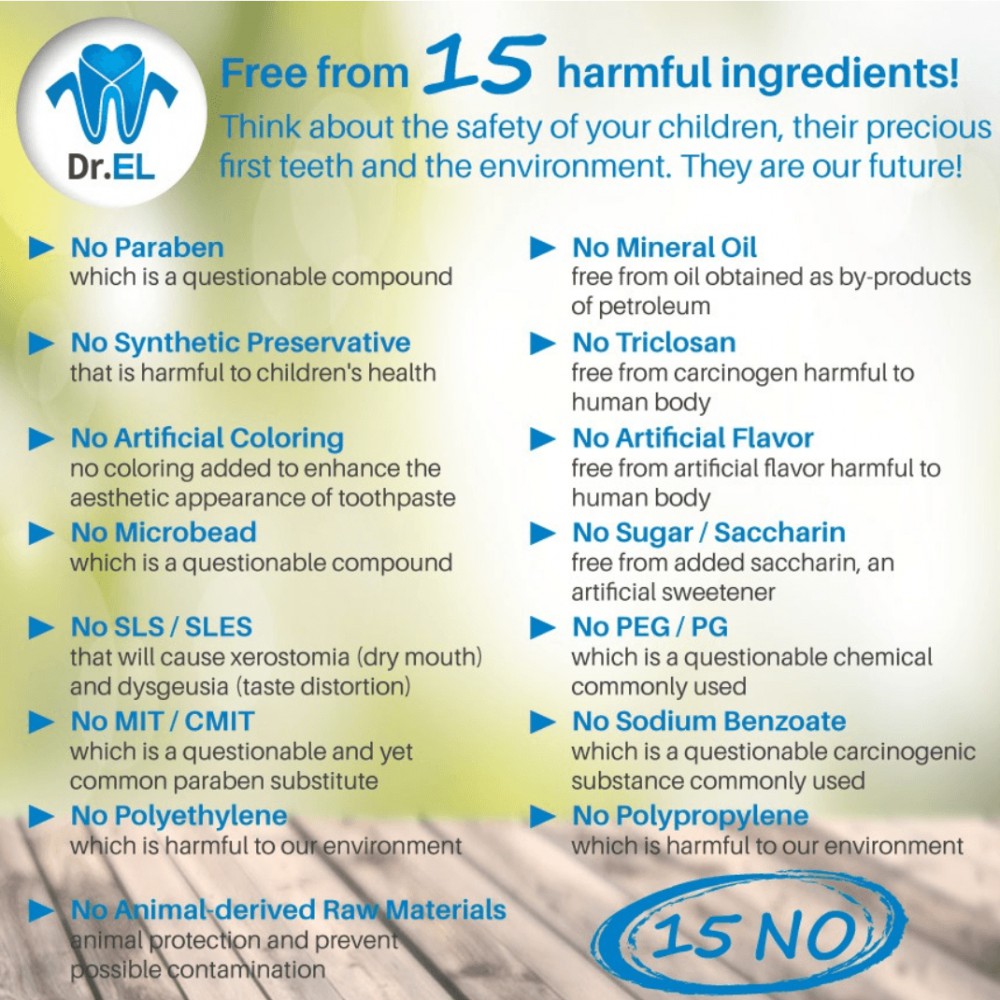 Features
⭕Free from 15 harmful or questionable ingredients
⭕100% certified organic ingredients
⭕No Fluoride & Preservatives
⭕Hygienic antibacterial cap
⭕Approved and recommended by dentists in Korea
⭕Made in Korea